Books in English
Information and practice methods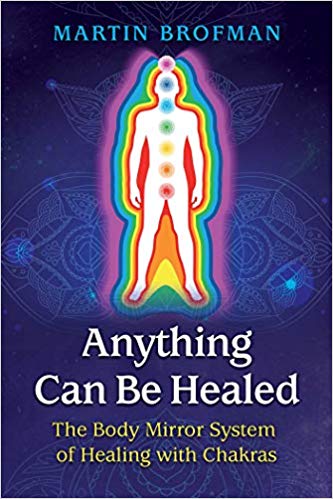 Anything Can Be Healed: The Body Mirror System of Healing with Chakras
Martin Brofman
---
A new edition of the classic practical manual for utilizing the chakra system as a body/mind interface for effective energetic healing
• Explores the physical body as a mirror of our consciousness, with symptoms reflecting inner stresses in our emotional being, our mind, and/or our higher self
• Offers an in-depth explanation of different aspects of each chakra, alongside a chakra meditation and practical energy exercises
• Includes color reference charts of the chakras and their associated vibrations, systems, layers of the aura, senses, and areas of consciousness
Drawing on his own profound healing experience as a young man, Martin Brofman developed a system of healing that effectively and seamlessly blends Western psychology and Eastern philosophies: the Body Mirror System. He explains how the chakra system connects to both mind and body to form a body/mind interface, allowing us to read the physical body as a mirror of the consciousness within, track the route from symptom to cause, and then work on releasing the causes on all levels.
Brofman shows how specific tensions or symptoms on the physical level reflect corresponding tensions in one's consciousness about specific issues in life--the inner cause to the outer symptom. The author explains how healing the symptom needs to involve not only releasing the tension on the physical level, but also letting go of the stressful way of interacting with the environment. Thus, the process of healing always implies a process of transformation.
Within the concepts of his Body Mirror System, Brofman explores the chakras and their role in the body, including their associated vibrations, parts of the body, senses, layers of the aura, and areas of consciousness. He explains how to clear and connect the chakras, how to connect to the cosmos through the chakras, and how engaging with thought forms, time travel, and past lives can assist in healing sessions. Discussing the healing of others as well as self-healing, Brofman describes how to heal with chakras, thought forms, white light, and love, and how to perform distance healing. He provides practical energy exercises and chakra meditations, allowing the reader to imminently experience the healing energy in their bodies and prepare for a healing session. He also includes color reference guides, such as a chakra healing chart.
Deeply examining the multilayered elements of the healing process, including transformation, this classic healing guide serves as a practical introduction to energy healing as well as a healer's tutorial and reference book.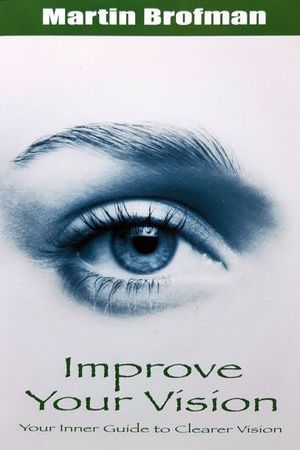 Improve your vision
Martin Brofman
---
Your Inner Guide to Clearer Vision "Our physical eyes are the organs of outer perception, but they also relate to our inner perceptions. Eyesight is not just a physical process involving acuity; it is a multi-dimensional function affecting and affected by our emotional and mental state of Being. Eyesight is also linked to personality and each type of vision impairme nt correlates with a specific personality type." - Martin Brofman, PhD. Thousands have found improved vision through the Brofman method as explained in Improve Your Vision - Your Inner Guide to Clearer Vision. But this isn't just a book about eyesight; it is also a book about insight into who you really are and how you can lead a happier more fulfilled life by being true to yourself. Martin Brofman provides a practical program for anyone seeking clarity on all levels. He explores the character traits shared by people with similar eyesight issues and offers sound practical advice and exercises for anyone interested in seeing more clearly. Discover how to tackle the stress that creates impaired vision while also unlocking your own personal potential.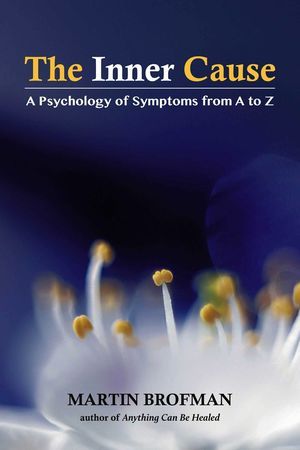 The Inner Cause
Martin Brofman
---
Explores the body as a map of consciousness, where physical symptoms reflect stresses on our minds, emotions, and Higher Self
• Offers a comprehensive guide to 800 physical symptoms with the description of their inner cause and the message they are sending to our consciousness
• Explains how learning a symptom's message empowers the individual affected to take charge and effect change on the inner level
• Addresses the individual as well as the helping professions, healers and therapists, to help them understand more fully the dynamics of the body-mind interface
The body is intimately connected to the mind and the Spirit. Each physical symptom reflects a deeper part of our Spirit and consciousness, the part the Western traditions know as the "unconscious" or "subconscious." When we make a decision that leaves us with stress, it affects our consciousness, and therefore our energy field or aura. When the tension increases in intensity, it reaches the physical level where it creates a symptom. This means that if we make a different decision, or change our mind about something, we can let go of this stress, and the symptom. The symptom itself is not the problem, just a message that, once understood, has fulfilled its purpose and can be released.
Integrating Martin Brofman's more than 30 years of research and healing practice, The Inner Cause comprises an A to Z compendium of 800 symptoms and a psychology of their inner causes, the messages they are trying to send to our consciousness. Woven into the descriptions of symptoms, the author also discusses personality profiles associated with certain symptoms, derived from his understanding of the chakras, the body-mind interface, and the connections he discovered when developing his Body Mirror System of Healing. He explains that when you explore the inner cause to a symptom, you recognize that you have created this symptom through the stressed way you chose to respond to the conditions in your life. By learning a symptom's message, you become empowered to take charge and effect change on the inner level.
For each symptom discussed, the author explores the message of the symptom, which chakras are involved, how you may be affected, and which issues you might need to look at to resolve the tension or stress--although a specific solution will always depend on the individual's personal situation. With its correlation of symptoms and psychological states of being, The Inner Cause provides invaluable insight into how we can effectively support our own healing process physically, emotionally, and spiritually.